Old CHS Auction Raises About $16,500
Published: Thursday, May 21, 2009
The May 9 auction at the Chillicothe Middle School generated $16,472.54 which, R-2 officials say, will be used to cover some of the expenses associated with the demolition of the old high school. Wade Schroeder, assistant superintendent, said that while proceeds from the auction will go to cover expenses, funds generated from the sale of bricks, floor boards, auditorium seats and locker doors will be used to fund a building marker. Funds from those items, Schroeder says, have not been totaled yet. "We're still getting orders for bricks and things of that nature," he said.
"Old" High School Memorabilia and Events
May 4th thru May 9th 2009
We are very pleased with the turn out for the Old High School "If Walls Could Talk" production and the auction held May 4th though May 9th. It was a wonderful week with the great production of "If Walls Could Talk" each night culminated by the auction on Saturday. We were happy to provide the community the opportunity to take a last look around and possibly acquire an item from the building. A building with such history is difficult to see go but it was a wonderful week non-the-less.
The pre-sales of bricks and gym and stage floorboards with continue, but the auditorium seating and locker doors sales have come to an end.
The Chillicothe R-II School District is still taking orders for certain memorabilia items to be made available from the Chillicothe Old High School Building.
Building Brick w/brass plate: $15ea. $10 shipping, if needed
Piece of basketball floor w/brass plate: $15ea. $5 shipping, if needed
Piece of the stage floor, left black, w/brass plate: $15ea. $5 shipping, if needed
Send a check or money order with your shipping address, phone number, and an order list of what you want and the quantity. Items may not be delivered until late summer due to the time it will take to gather and prepare. The checks should be made payable to the Chillicothe R-2 School District.
Send orders to:
Wade Schroeder, Asst. Supt.
Chillicothe R-2 School District
1020 Old Hwy 36 W
Chillicothe MO 64601
Proceeds for all these items will be used to erect a building marker for the old building on the location.
Please email Wade Schroeder, Assistant Superintendent, with any questions you may have or clarification on how to order.
For more on these events, along with photos, visit these pages on this website:
CHS Tribute Edition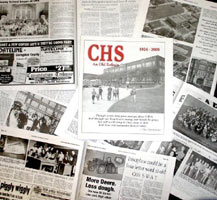 By Catherine Stortz Ripley. Constitution-Tribune
Fri May 08, 2009
A special edition commemorating the old Chillicothe High School building on Calhoun Street is now available for purchase at the Constitution-Tribune business office. The edition features photographs and interviews of former teachers, administrators and students. The building, constructed in 1924, is slated for demolition this summer. The edition sells for 75 cents.
Old CHS Items at Auction
C-T Photo / Amanda McKay
Monday, May 11, 2009, C-T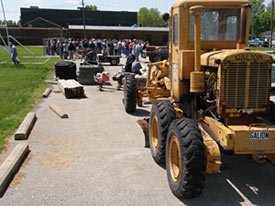 Items from the old Chillicothe High School building were sold at auction Saturday with 220 registered bidders. The auction began at 10 a.m. with most everything having been sold by 3:30 p.m. Many built-in classroom cabinets were big ticket items, according to R-2 Assistant Superintendent Wade Schroeder.
Money raised from the auction will be used to offset some of the costs of preparing for and working through the auction and demolition project. Also among items sold were wooden and padded auditorium seats, big clocks, speakers, student lockers, trophies, and a basketball scoreboard. A total dollar amount from the sale was not yet been determined as of press time today.
Brick by Brick
C-T Photo / Catherine Stortz Ripley
Constitution-Tribune, Tuesday, 04 21 09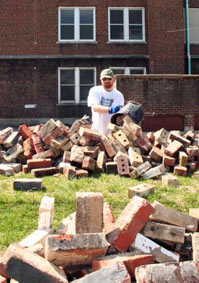 CAPTION: Vern Yost, a part-time maintenance worker with the Chillicothe R-2 School District, unloads buckets of bricks from the old Chillicothe High School building on Calhoun Street. The bricks were being removed from a wall on the roof and lowed to the ground on Monday. The bricks will be cleaned by members of the FCCLA and FBLA school groups and small brass plaques will be placed on them. The commemorative bricks are being sold for $15 each as a keepsake from the old school.
The commemorative bricks are being sold for $15 each as a keepsake from the old school. The clubs preparing the bricks will receive a portion of the funds raised with the balance going toward the purchase of a historical marker that to be placed at the site once the old building is torn down.
The demolition is expected to take place this summer. In addition to bricks, other items being sold from the old high school are wooden planks from the old basketball floor (which was later turned into the auditorium), balcony seats and locker doors.
Board Hammers Out Details for Upcoming Auction at Old High School
Constitution-Tribune, Friday Apr 24, 2009
Board members have hammered out some details concerning the upcoming May 9 auction at the old high school. Specifically, the board unanimously determined Tuesday night, April 21, that all persons entering the old high school on the auction day and afterward to remove items they have purchased must sign a waiver of liability first.
Assistant Superintendent Wade Schroeder explained that the waiver is needed so that community members have the opportunity to bid on as many items as possible. "We would like to be able to walk patrons around the interior of the building and bid on objects that are currently in place during the sale," he explained.
Loose items, he said, will be bid upon and removed on May 9. Larger, attached items will be bid upon and then, under the signed agreement, will be allowed to be removed May 22-24 from 7:30 a.m. until 3:30 p.m. After that, Schroeder said, all items and proceeds that remain inside the old high school will be deemed as a donation back to the school district.
For more on these events, along with photos, visit these pages on this website: