CHS 60's Maxi Reunion II
Saturday, September 4, 2010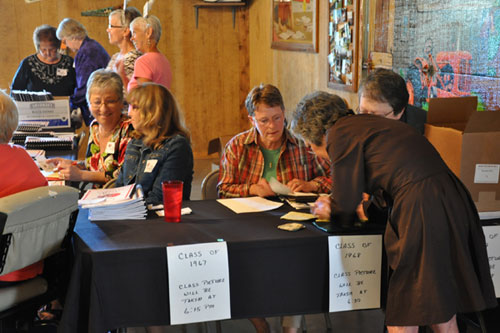 Photos Courtesy of Jim Summerville... please wait for the slideshow to load if on a dial-up connection.
Click on the individual class photos below to enlarge and see names associated with those who attended!
Please contact Bailey Studio in Chillicothe if you would like a copy of any of the class photos below.
MAXI II DETAILS...
Saturday, September 4, 2010 - 3:30 p.m. to 11:30 p.m. - Good Time Charlie's
Reservation Deadline: July 15, 2010
[A late fee of $10.00 per person will be assessed at the door.]

Reunion Cost for Graduates: $30.00 (price includes 8x10 color picture of your class)

Cost for Spouse/Guest of Graduate: $20.00
PLEASE NOTE: If graduate and spouse both graduated the same year (or the spouse is not a CHS graduate), the spouse pays $20. However, if graduate and spouse graduated in different CHS 1960's classes, the spouse pays $30.

Cost of Each 1960's Maxi Reunion Booklet: $5.00 (if picked up at the Reunion) or $8.00 (if mailed)
Schedule:
3:30-4:30 p.m. Registration and Social Time
4:30-6:45 p.m. Class Pictures (see time schedule below)
6:00 p.m. Meal
7:00 p.m. Welcome
8:30-11:30 p.m. Dancing (music by Krazy Kats) and Visiting
| | | | |
| --- | --- | --- | --- |
| 4:30 p.m. - Class of 1960 | 4:45 p.m. - Class of 1961 | 5:00 p.m. - Class of 1962 | 5:15 p.m. - Class of 1963 |
| 5:30 p.m. - Class of 1964 | 5:45 p.m. - Class of 1965 | 6:00 p.m. - Class of 1966 | 6:15 p.m. - Class of 1967 |
| 6:30 p.m. - Class of 1968 | 6:45 p.m. - Class of 1969 | | |
Please be on time! The photographer will not be able to wait for you. Photos taken by Bailey Studio. Contact Bailey Studio if you would like copies of Maxi II class reunion photos.

Dress Attire for the evening is very casual.
Directions to Good Time Charlie's (GTC's): Travel North on Highway 65 to Highway 190; go West on Highway 190 for 9 miles to Road 511. Watch for sign! Travel North on Road 511 for one mile. Phone: 660-646-4037.
Note: GTC's has the exclusive right to sell liquor (and soft drinks) at the Reunion. By law, persons attending the Reunion are expressly prohibited from bringing liquor and soft drinks to GTC's.
Sweet's Shuttle Service will provide round-trip transportation from Chillicothe to GTC's for a cost of $15.00 per person for the Reunion. Reservations: 660-646-2585; cell 660-707-2884. A 24-hour notice is requested.
Chillicothe Motels:
Best Western, 660-646-0572
Super 8, 660-646-7888
Grand River Inn, 660-646-6590
Comfort Inn, 660-646-9900 or 1-800-424-6423
NOTE: If you mention GTC's when making a reservation at Best Western or Super 8, you will receive a $5.00 discount on your room.

CHS 60's Maxi Prints:
Original Artworks by Kelly will have school prints available at the 60's maxi-reunion. Orders may be placed via phone @660-646-6451, or snail mail to: 443 Locust , Chillicothe Mo. 64601. They will also be available for sale at the reunion. Pricing: $25.00 Print, $35.00 Matted Print, $50.00 Full Framed Print.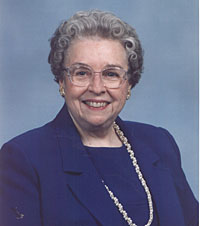 Virginia Wall
The Virginia Wall Story: "The Virginia Wall Story" by Bonnie Mitchell is now available! (For details and ordering information, download the 760KB PDF flyer.) ALL proceeds from the sale of the book will go to the Virginia Wall Scholarship Fund.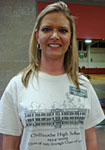 CHS "If Hall's Could Talk" DVD: Sharp Focus Video... Larry Warren, 660-646-5704 or email

CHS Old CHS Building T-Shirt: Order from Scott Rule, Community Press. (See t-shirt at right - click photo to see a closer view.)

CHS 60's Maxi Reunion Committee:
Donations to the CHS 60's Maxi Reunion:
If you would like to make a donation to the CHS 60's Maxi Reunion, mail your check payable to "CHS 1960's Maxi Reunion" to Treasurer, 3900 Wellington Drive, Columbia, MO 65202, and label your check as "Donation - CHS 60's Maxi." Thank you! If you have questions, you may call 573-680-9494.

Advertisers
Our special THANKS to the following Chillicothe businesses for their advertisements:
BTC Bank, 400 W. Old Hwy. 36; phone: 646-1919
Chillicothe State Bank, 600 Washington; phone: 646-5120
Investors National Bank, 522 Washington; phone: 646-3733
Harden Cummins Moss & Miller, CPA, Citizens Bank Bldg.; phone: 646-2336
Lockridge Constant & Conrad, CPA, 448 Washington; phone: 646-6911
Scott Stephens, CPA (Fred's son), 2881 Grand Dr.; phone: 646-4872
Terry F. Deatz, CPA, 614 Washington; phone: 646-5090
Mid-Western Advertising, 201 Ryan Lane; phone: 646-4344
Pepsi-Cola Bottling Co., 400 S. Mitchell Ave.; phone: 707-1053
Woody's Outdoor Power Equipment, 35 S. Washington; phone: 646-7722
Woody's Automotive Group, 310 S. Washington; phone: 646-3455
(All telephone area codes are 660.)